Banded Horn Brewing Company, Vertumnus Ale, Biddeford, ME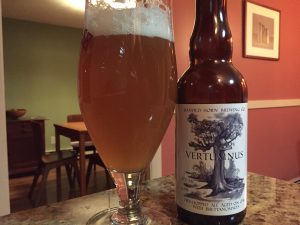 Ironically I am trying this beer, named after the god of seasons and change, a few days before we receive over a foot of snow in mid-March!
6% abv. Dry hopped ale aged on oak with brettanomyces yeast. This beer starts with their Veridian IPA. Pours a rich orange-gold color with a fluffy white head. Spiced apples, cloves, and banana bread aroma. First sip is both fruity and spicy. Mix of dried mango and papaya with white peppercorn and cloves and the slightest note of vanilla. Very drinkable, but dry at finish, perhaps from the oak. Tropical fruit flavors linger on the gums and tips of the tongue after sharp hop and spice bite. Hops become more dominant as you move through the beer. Refreshing and very flavorful. Another solid and enjoyable offering from Banded Horn.