Gong with a somewhat obscure movie reference for this blog post title. Guessing that you wicked smaaaht people out there can figure it out.
Long Trail Brewing Company, Green Blaze IPA, Bridgewater Corners, VT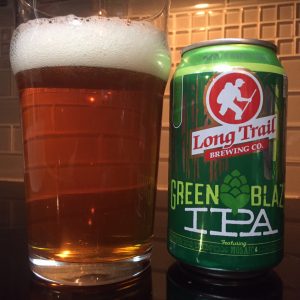 6.5% abv. 60 IBUs. Made with Equinox, Mosaic, Columbus and Chinook hops.  Poured from a 12oz can.  Pours copper gold with a decent white head. Good Belgian lace. Pine resin, orange zest, and sweet pineapple on the nose. Hops are clearly present on the first sip, but they are not overwhelming. Initial flavors include pine, fresh cut grass, lemon, apricot, and fresh herbs. Slight spicy tingle around the gums and sides of the tongue at finish. Caramel and dry cracker malt flavors help balance this out a bit. This is a solid IPA and something I would buy again for the great $13.99 per 12 pack price. Really good beer can also be affordable, you just have to look around a bit!