Cigar City Brewing, Jai Ali IPA, Tampa, FL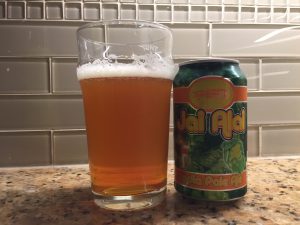 7.5% abv. Canned 9/5/17 so this is about a month old. I first had this beer at the Walt Disney World EPCOT Center Flower and Garden Festival in 2015 during a family trip. I remember it was about 97 degrees in May and I drank it way too fast to adequately rate it. I recently picked it up at Wegman's in Easton, PA during my trip to the Martin Guitar Factory and Museum.
It pours a rich copper gold color with a thin white head. Wow, it is bursting with orange zest and grapefruit aromas. First sip is orange zest and pine with a touch of white pepper. Thirst quenching and therefore dangerous due to the relatively high ABV. Excellent Belgian lace. This is certainly a hop forward IPA, but the sweet caramel and candy sugar malt flavors try to help balance it. Hop flavors linger forever on the gums and the back of the throat. Papaya and pineapple flavors get stronger at finish. Some vegetative tobacco earthiness as well. This is a delicious IPA and I only wish it was something we could get distributed to Massachusetts.