Bell's Brewery, Oberon, American Wheat Ale, Comstock, MI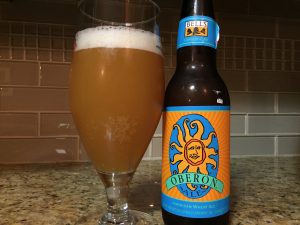 5.8% abv. I first had this beer while attending the Museums and the Web conference in Indianapolis in 2009. I stopped in for a snack and a beer at Scotty's Brewhouse and it paired nicely with some chips and guacamole.
I had it again tonight thanks to a beer swap with my friend George Schwartz . Bottled on 4/6/17 . Pours a murky copper gold color with a thick white head that slowly dissipates. Spicy aroma with a touch of funk and ripe banana. Great Belgian lace. Wonderful peach, apricot, and blood orange flavors. Orange zest and white pepper zip of hop spiciness. This is an American Wheat Ale with an extra punch of hop bitterness. This beer would pair equally well with a fresh fruit salad or a bratwurst, making it a perfect summer beer. It is medium bodied yet very thirst quenching. I literally drank this beer in about 10 minutes trying to rank it…that is generally a good sign of drinkability. Honestly, this is one of the finest American Wheat beers that you will find.