Founders Brewing Company, Kentucky Bourbon Stout, Grand Rapids, MI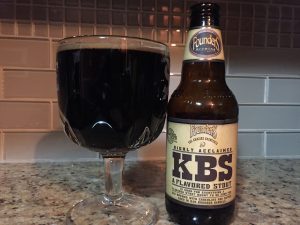 11.2 % abv – On the label: "The Amazing Kosmicki's Highly Acclaimed KBS A Flavored Stout is good for everything a flavored stout ought to be good for – Ale brewed with chocolate and coffee, aged in oak bourbon barrels"
This is a tough one to find. Many thanks to my brother Tom for chasing it down for me.
Pours a jet black color with a heavy dark tan head. Delicate lace all over the glass. Tiramisu, dark chocolate, and fresh cup of coffee on the nose. First sip is a mellow and sophisticated combination of chocolate, espresso, maple syrup, and bourbon ball cookies. Medium to full bodied mouthfeel. Be on notice, this is a dangerous beer. It is 11.2% abv, but incredibly drinkable. Virtually no alcohol esters. I did cellar this one for quite a while, but I imagine it is pretty smooth when it is fresh. It is not over sweet or cloying in any way. They throw in a wallop of 70 IBUs worth of hops in there to balance it off. The high alcohol and malt bill makes this 12 oz bottle a whopping 340 calories! As I make my way through it I am picking up the slightest citrus hop flavor, but it is really all chocolate and coffee goodness. By the end it is hard to tell the difference between a mild astringency from the heavy amount of malts in the mash and the hops, but I don't mean this in a bad way. It gets drier and drier with each sip. Flavors continue to emerge, including bourbon vanilla, sherry, pepper, oatmeal, molasses, and anise. This is an incredibly complex beer that is a joy to drink.
Again in 2017.  It is 5 degrees with a -4 degree wind chill and I needed some warming up. KBS to the rescue. I am reviewing it without reading my previous notes from 2015. This one has been aged about 9 months. Chocolate and coffee aromas fight for domination, but it goes back and forth with each sip.  A pure dessert bomb of flavor. A touch of alcohol is noticeable on the first sip, but it is by no means boozy. It provides a very subtle warming on the back of the throat and belly by the third sip. This is just a crazy delicious beer. Plenty of oak and sherry-like dryness keeps the sweet chocolate and malt flavors from becoming too cloying. So complex, with dark chocolate, espresso, anise, dry oak, sherry, black strap molasses, bourbon vanilla, and subtle bursts of berries and citrus. I paired it up with a few Trader Joe's Belgian truffles just to make it an even more ridiculous caloric experience.  I am trying to drink it slowly, but it is milkshake smooth and irresistible. Really just a delight to drink this. It has been in my top 25 beers of all time and it will stay there. That puts it in about the 99th percentile of the almost 2,400 beers I have tried! I have another one that I am going to cellar for another year. Check in again the next holiday season!