Fort Hill Brewery, Farmer's Fresh IPA, Easthampton, MA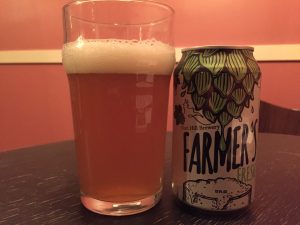 5% abv. Fresh batch that I picked up the day it arrived at Rapid Liquors in Stoneham, MA. This is one of the best beers for the price that you can get anywhere. It sells here for $6.99 a six pack and brings so much flavor. It really is an incredible value and it has become my daily staple beer. I stock up with at least 3 cases every time I find it available. I should have reviewed this a long time ago, but perhaps I subliminally wanted to keep it all to myself!
It pours a hazy orange gold color with a decent white head. Pine, orange zest, and tropical fruit salad on the nose. First sip is super smooth with a light to medium body with good carbonation. Great hop bite with first sip, which is surprising for a session beer. Incredibly thirst quenching, so it goes down super easy. Dried apricot, mango, pineapple, and papaya flavors upfront with a slight orange zest and pepper finish. A touch of dankness and earthy fresh cut grass. A sweet caramel or wheat roll maltiness helps round it all off. Really the perfect beer for a summer BBQ or watching a game. I love this beer.