Fifty Fifty Brewing Company, Eclipse Imperial Stout aged in Evan Williams 23 Year Old Bourbon barrels, Truckee, CA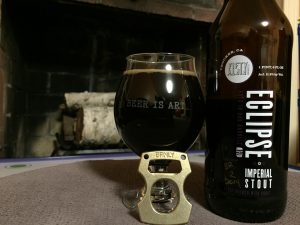 I have been waiting to crack this one for a long time…I cellared it for almost 4 years. Many thanks to my brother Tim for the crazy birthday present. Every year Fifty Fifty Brewing Company ages its imperial stouts in a wide range of spent barrels from distinct vintners and distillers.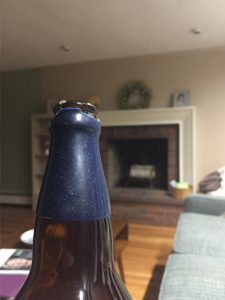 Each bottle is sealed with a different colored wax that indicates what kind of barrel it was aged in.  I was lucky enough to get some of Batch Run 2 from 2014 that was aged in Evan Williams 23 Year Old Straight Bourbon Whiskey barrels!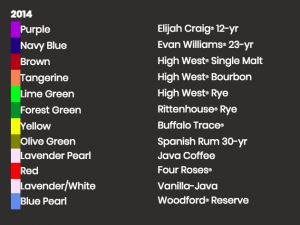 That whiskey costs between $400 – $800 a bottle if you can find it, since it is generally only distributed at Heaven Hill Bourbon Heritage Center in Kentucky. So needless to say this is one special beer.
I am also taking this opportunity to use my Burnley Cypop bottle opener for the first time with thanks to the amazing Maddie and Lucas Burnley. I had to make its debut with a special beer. So here goes.
11.9% abv. Pours a gorgeous pitch black with a dark tan head. This thing smells unreal with notes of bourbon vanilla bean, charred oak, cacao nibs, and anise. First sip is a luscious and smooth vanilla flavor that makes it irresistible and ridiculously drinkable. Full-bodied silky smooth, but it gets slightly drier with each sip. I don't know what this would have tasted like green, but I have to imagine that cellaring it for so long really helped mellow it out. No boozy alcohol esters, just pure deliciousness. The dry oak and sweet vanilla play off of one another with each sip. Pretty quick warming in the belly reminds me to slow down or I will fall down when I stand up. I love the very subtle coconut flavor as well. Some mild espresso and chocolate flavors at finish. Touches of toasted almond, caramel, and I might even be getting a little bit of cinnamon at finish. This beer is so damn good and I am really beginning to feel it on the second glass. I love beer and I love whiskey and this is the perfect marriage of flavors.