Lawson's Finest Liquids, Sip of Sunshine IPA, Warren, VT (brewed in Stratford, CT)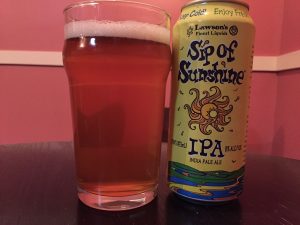 I have tried a lot of beers, this is number 2,336 in my beer database. The legend of Sip of Sunshine has been around for a while now, but for various reasons this beer has eluded me. I tend not to chase beer and I rarely stand in line for it (especially during winter at 5am), but I can respect those that do! I got lucky the other day when I opened Facebook and saw that Rapid Liquors in Stoneham had just received a shipment of this beer. I live about 2 miles away and within about an hour, there were only 3 four packs left when I got there. Here is my review:
Tallboy can dated 5/2/17 so this is about a week old. 8% abv. Pours dark gold with a decent white hop head. Great Belgian lace. Huge pineapple juice aroma with bursts of mango. The sweet smells jump out of the glass and assault the nose. Some dried apricot and papaya notes as well. Simply put, this beer smells amazing. First sip is tropical fruit salad with a touch of pine. It has a distinctive floral and herbal hop finish. It is kind of a perfect balance between an old school IPA and the new juicy east coast variety. Almost immediate slow warming in the belly after a few sips, yet it remains ridiculously smooth for the high abv. Some caramel malt balances it out, but it is really all tropical fruit deliciousness. Gets drier and slightly more dank as you move through it, but not in any kind of negative way. Great, great stuff.